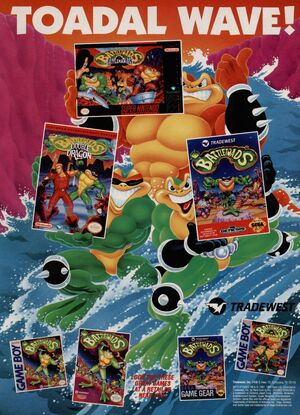 Battletoads is a series of platformer beat 'em up games developed by Rare and published by several companies. Set in a science fiction setting, Battletoads stars the titular group of three anthropomorphic toads, Rash, Zitz and Pimple, who fights against the forces of the Dark Queen to stop her plans of universal conquest.
The first installment, released in 1991 for the Nintendo Entertainment System (NES), was created as Rare's respone to the Teenage Mutant Ninja Turtles franchise's popularity in the early 1990s.[1] The game was renowned for its difficulty and spawned sequels for various platforms, including a crossover with the Double Dragon series of beat 'em games. The Battletoads series as a whole has received a cult following, with six installments up to this date, and it also spawned a comic book and an animated television pilot.
Three young, All American video game testers are transformed into three young, All Amphibian video game heroes when play testing a brand new video game for the Psicone Corporation. The name of the game is Battletoads, and it has a secret hidden in the heart of it's silicon chip - a mysterious virus which acts, not only upon the game's program, but on the players themselves, transforming them into video game characters and thrusting them through the screen into the pixel-populated dimension beyond. A dimension known as the Gamescape.
The Gamescape is a world where anything can happen - where the timeless battle of good and evil is fought with a unique blend of powerful sorcery and high technology. It is a world that has always existed, but which can only now be visited via the portal of computer data. Programmers hold the key to this portal - a key not of metal but mathematics - giving us access to the virtual reality beyond the screen. This is a world of weirdness and wonder, of gigantic games played against a backdrop of galaxies, a world of mistery and magic, frights and fantasy...
New worlds demand new and original heroes. Adventurers and explorers must chart the territory from which its legends and myths are woven. Such heroes are the Battletoads, a unique mixture of man, amphibian and computer technology.
List of games
Edit
References
Edit
↑ Battletoads Retrospective | What happened to Rare's popular hardcore beat-'em-up, IGN, January 13, 2009.
External links
Edit
Community content is available under
CC-BY-SA
unless otherwise noted.